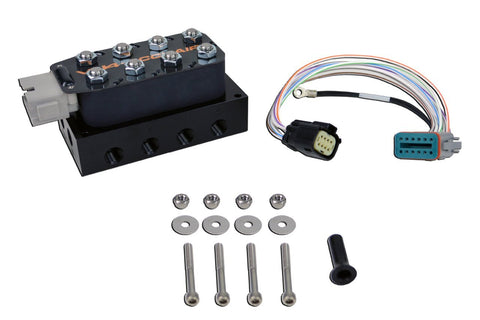 AccuAir VU4 4 Corner Valve Manifold W/ 1/4" NPT Ports
AccuAir VU4 4 Corner Valve Manifold W/ 1/4" NPT Ports

The AccuAir VU4 4-Corner Valve Unit is engineered to provide the cleanest installation and most reliable operation on the market. This electronic solenoid valve unit inflates and deflates up to (4) individual Air Springs and has threaded 1/4" NPT ports. 

Includes:
(1) VU4 4-Corner Solenoid Valve Unit.

(1) ft Plug-n-Play Weatherproof Harness (for use with e-level™ controller). Splice for use with any other controller or switches.

(1) 3/8" Plastic Spare-Inlet Plug.

(1) Stainless Steel Mounting Hardware Package.

(1) Illustrated Manual.
Features:
For use with e-Level Controller or any other brand of controller or switches.

Pre-wired & port numbered for reduced installation time.

High pressure rated for operation up to 200 PSI.

Dual inlet & exhaust ports for maximum flow.

Compact layout for minimal space usage (5" x 3" x 3").

Anodized aluminum manifold to prevent corrosion.

100% weather resistant for harsh under vehicle environments.
Tech Specs:
Compatible Suspension Type: 4-corner full air suspension
Voltage Requirements: 9.5 - 16 volts
Current Requirements: 1.1 amps
Connectors: IP67 certified
No. of Inlets Ports: 2
No. of Exhaust Ports: 2
Max Operating Pressure: 200 PSI
Cv Flow Factor: .25
Average Adjustment Time: ~2.2 seconds
---
We Also Recommend