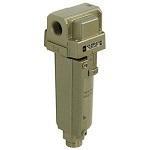 SMC 1/4" NPT moisture trap. SMCAF20-N02-2Z 

Physical dimensions: 1.625" W x 1.625" L x 3.875" H

Use in conjunction with electric compressors (incoming to tank) or with engine driven compressors as a post filter out of tank before valves. For engine driven systems before tank, use the 1/2 NPT version or the 3/8 NPT version.
---
We Also Recommend