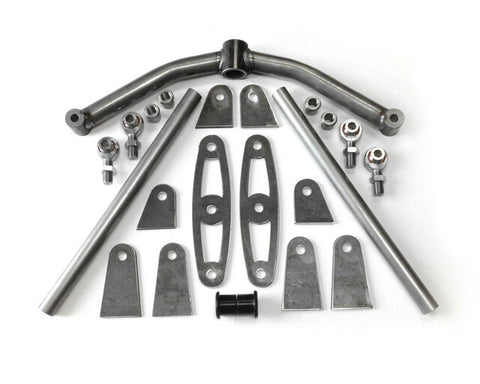 Nfamus Metal Watts Link Kit
Our Universal Watts link kit we offer is most often used with our Parallel 4 link kits we offer. These watts links are great for helping keep your axle centered throughout the movement of the suspension when cycling. The adjustable bars are sent long so you can cut and build them to your needs based on which vehicle your installing this on. When designing the main pivot point bar that goes behind the axle we built it so it would work on just about every axle out there including 1 ton and 3/4 ton axles. The main pivot bar is built from 1 1/2 DOM tubing with a .188 wall thickness and the pivot bushing and bung are a 3 inch bushing pivot housed inside a 2" .250 wall outer bung. Main pivot is 24" center hole to center hole.
INCLUDED:
1 - Main Pivot Bar
2 - Flat Watts Plates (1/4 inch mild steel)
2 - Adjustable Bars 1 1/4 DOM .120 wall thickness
4 - Short flat Adjustable bar tabs
4 - Long Main Pivot Bar Tabs
2 - LH Chromoly 5/8 Heims and jam nuts
2 - LH Tube Ends
2 - RH Chromoly 5/8 Heims and jam nuts
2 - RH Tube Ends
1 - 3 inch wide polyurethane bushing and inner sleeve
1 - Hardware Kit
Note: Nfamus Metal is a custom fabrication shop based in Cleburne, Texas. All Nfamus Metal parts are custom built to order. Because of this there are no refunds or exchanges. You can generally expect a 2-4 week lead time to ship due to the custom nature of these parts.
---
We Also Recommend