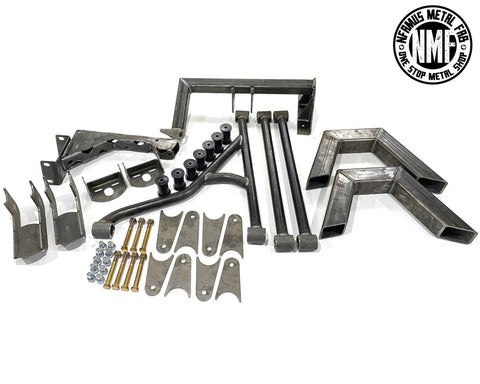 Nfamus Metal S10 3-Link Kit
This is a custom kit and built to order for our customers. 
Please understand there will be a process time to build this kit. 
No Refunds. 
The item you are looking at is a 3 Link suspension system designed for S10's.  The main wishbone is designed to clear the factory gas tank and the front lower links bolt into the factory leaf spring hangers. 
The lower bag mounts are designed to go behind and under the axle.  The upper bag mounts will need to be mounted to a piece of DOM (not provided) between the notches.  
The gas tank crossmember and wishbone mount is a fully bolt on piece to help with ground clearance for the gas tank.  
The axle tabs for the lower link bars and wishbone will also need to be welded to the S10 axle (If your running a different axle in the chassis please specify that in the notes section when checking out) 
One piece notches are also optional and will require welding .  This is a weld on application it is very recommended a certified welder does all the welding.
Kit Includes: 
2  - piece gas tank and wishbone crossmember
1 - 3 link wishbone
2 - Lower link bars (Non Adjustable DOM)
8 - Axle Tabs 2.75 inch
7 - Polyurethane bushings
7 - Grade 8 Bolts (For the Links)
1 - Gas tank crossmember hardware kit
2 - Upper Bridge bag mounts
2 - Behind and under bag mounts
2 - S10 Notches (Optional) 
---
We Also Recommend