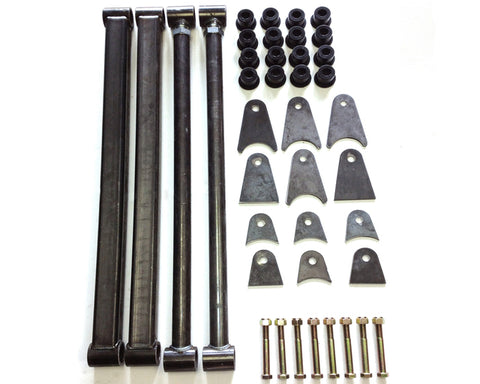 Nfamus Metal Bag On Lower Bar Triangulated 4 Link
This is a custom kit and built to order for our customers. 
Please understand there will be a process time to build this kit. 
No Refunds. 
THIS IS PROBABLY OUR MOST COMMON TRIANGULATED 4 LINK WE OFFER. THE KIT COMES WITH TWO ADJUSTABLE UPPER LINK BARS BUILT TO YOUR SPECS. MADE OUT OF 1 1/2 DOM WITH A 1/4 INCH WALL THICKNESS. THE ADJUSTABLE LINKS ARE TAPPED TO 1 1/8 THREADS FOR PLENTY OF STRENGTH. THE LOWER BARS ARE BUILT TO YOUR SPECS AND CONSTRUCTED OUT OF 2X2 SQUARE TUBING WITH A 1/4 INCH WALL THICKNESS. ALL OF THE BRACKETS ARE CNC PLASMA CUT TO ALSO ENSURE PLENTY OF STRENGTH.
KIT INCLUDES:
2 ROUND ADJUSTABLE LINK BAR (BUILT TO LENGTH)
2 2X2 SQUARE TUBING LINK BARS (BUILT TO LENGTH)
2 THREADED STUDS
8 9/16 GRADE 8 HARDWARE
4 LONG AXLE TABS
4 SHORT AXLE TABS
2 LONG FLAT TABS
2 SHORT FLAT TABS
8 POLYURETHANE BUSHINGS
2 UNIVERSAL UPPER BAG PLATES
2 BAG ON BAR BRACKETS
4 TRIANGLE GUSSETTS
ALL LINK KITS COME WITH 3" WIDE BUSHINGS UNLESS YOU SPECIFY DIFFERENTLY. 
---
We Also Recommend