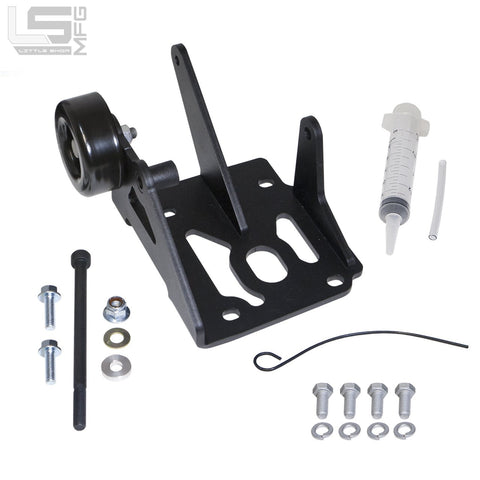 Little Shop MFG. Ram 5.7 Engine Driven Compressor Junkyard Dog Kit
 Kit fits 4th generation Ram 5.7 truck engines

Junkyard Dog Kit includes:
(Junkyard Dog kits are for customers who wish to source the compressor/clutch and associated components from a salvage yard.)
Lasered / Powdercoated .25" steel compressor bracket
Dipstick
Filler Syringe
Intake filter/Silencer
3 Gates Idler Pulley
Machined Idler Pulley Spacer
Hardware
Proper serpentine belt length information shown in installation instruction PDF
* please note there are no fitting provisions for the compressor in the Junkyard Dog kit since Yorks can have rotolock, tube-o, or flange style heads. It is up to the customer to find the necessary adaptations to convert to NPT. There are many configurations for pulleys and head fittings for Yorks throughout the years and we can't possibly offer all of that information, so please do not ask for it if you choose the junkyard kit. 
* You can also use new compressor part # 58064 and clutch # 47927 with the Junkyard Dog kit
---
We Also Recommend