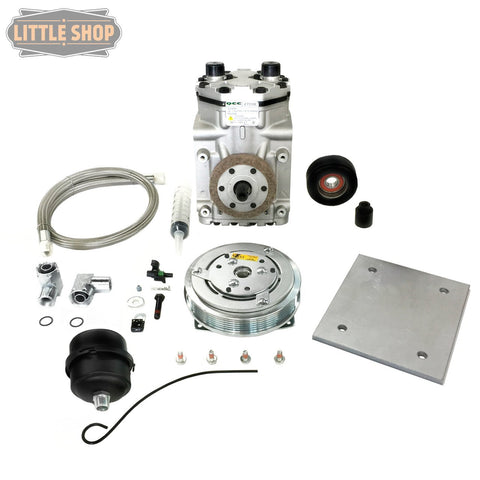 Little Shop MFG. D.I.Y. Engine Driven Compressor Kit
Build your own kit with this universal set up.  This allows you the freedom to build your own bracketry to match your needs.  
NEW (not remanufactured) York 210 compressor w/ clutch
2 x head fittings tapped to NPT
36" stainless braided leader hose 
lasered  1/4" steel compressor mounting plate
York dipstick
Filler syringe
Intake filter/silencer  
machined idler spacer 
York SLM Upgrade (Super Low Maintenance)
All the same benefits as the standard York
Several internal modifications to reduce oil consumption
Finned head to dissipate heat more effectively
Oil sight glass to monitor oil level
Side by side tests with a standard York show 1 oz of oil use per 1 hour runtime (standard) and 1 oz of oil use per 50 hours runtime (SLM).
---
We Also Recommend