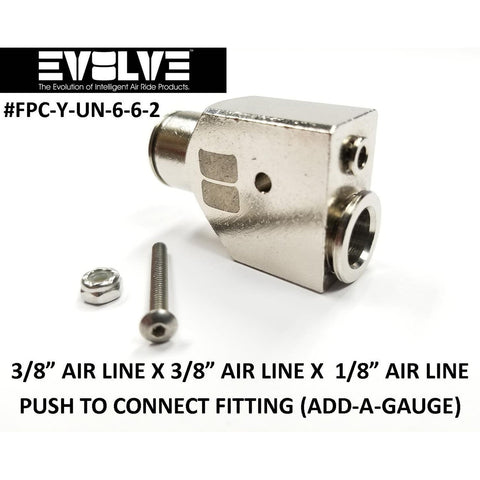 EVOLVE 3/8" to 3/8" to 1/8" "Y" Union Fitting (Add-A-Gauge)
Whether you're adding gauges to an existing air ride system or trying to figure out the best way to incorporate gauges on a new system, this is the fitting that you need!  Simply cut the 3/8" air line that runs between your valve and air bag with an approved air line cutter, then connect the lines back together with your new "Y" fitting.  On one side of the fitting there is an 1/8" push to connect so you can run an 1/8" air line to your gauge. There's even a mounting hole so it's not flopping around under your ride.  Stainless steel mounting hardware included.
 
SOLD INDIVIDUALLY
For the BEST RESULTS, please follow these procedures:
1.  Use only AVS approved 1/8" air line and 3/8" air line. 
2.  Use a sharp air line cutter and cut the line so it's square (perfectly flat on the end).
3.  Check the end of the line and make sure that it is free of dirt and debris and that it is still ROUND after cutting.  If it is formed like an ellipse (the shape of an eye ball), squeeze it to make it round.  Never insert an air line into a Push Connect fitting if it is not round!  It can nick the internal O-ring causing it to leak which is not repairable.
4.  After wiping down the end of the air line and checking for roundness, insert the air line firmly all the way into the fitting until it stops.  Then gently tug back on it so the internal locking ring can bite down into it.
5.  The air line must enter the fitting straight on, never at an angle.  If there is extreme tension on the air line causing it to bend close to the fitting connection, this may cause it to leak.

***AN AVS EXCLUSIVE PRODUCT - YOU WILL ONLY FIND THIS PRODUCT HERE AT AVS OR THROUGH ONE OF OUR DEALERS.    
***NICKEL PLATED BRASS - NO PLASTIC JUNK HERE!!!
***ONE COMPACT FITTING - DON'T WASTE TIME AND MONEY PIECING TOGETHER 2 OR 3 FITTINGS THAT WILL DO THE SAME THING. PLUS EVERY CONNECTION IS ONE MORE CHANCE OF A LEAK!
***THIS FITTING ONLY WORKS WITH 3/8" AIR LINE AND 1/8" AIR LINE.
---
We Also Recommend