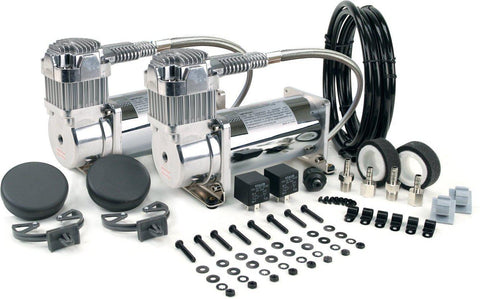 Viair 380c Dual Value Pack - Chrome
The VIAIR 380C Dual Performance Value Pack is ideal for air suspension systems capable of providing a maximum of 200 PSI and a 100% duty cycle. The kit features two 12-volt Pewter, Chrome, or Stealth Black 380C air compressors, two heavy duty 40-amp relays and a 165 PSI cut-on, 200 PSI cut-off heavy-duty pressure switch. Each 380C Dual Performance Value Pack also comes with remote mountable air filter assemblies and mounting hardware.
Note: Use thread sealant for proper installation. Teflon tape is not recommended. Properly sealed, recommended torque is 12 to 15 ft. lbs.
---
We Also Recommend