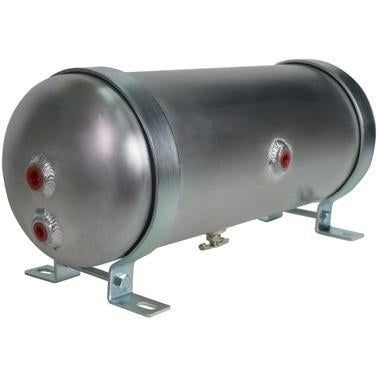 AVS 3 Gallon Aluminum Tank W/ 6 Ports - W/ Brackets - Raw
AVS 3-GALLON 6-PORT ALUMINUM M.P.M. AIR TANK - Raw


"MPM" stands for Multi-Position Mounting.  The same air tank can be hung from the rear package tray of a car, turned to the backside for mounting against a crossmember of a truck or mounted downwards for mounting to a trunk or bed floor.  360-degree mounting capabilities for every kind of mounting options in between. 
The mounting straps also include a NEOPRENE foam that sticks on the inside of the strap to prevent the strap from scratching the tank when securing it.  We purposely left the Neoprene foam off of the straps in case you want to paint or powdercoat the straps.  
As always, AVS tanks include a FREE draincock fitting.


FEATURES:
*3-GALLON ANODIZED BLACK AIR TANK
*TANK BODY IS 100% ALUMINUM CONSTRUCTION (Light-weight and corrosion resistant)
*2 x STEEL MOUNTING STRAPS WITH NEOPRENE PADS (powder coated black)
*1 X DRAIN PORT FITTING
*200-PSI MAXIMUM PRESSURE RATING (hydro tested to 400+ PSI)
*6-PORTS
     2 X 3/8" PORTS
     4 X 1/4" PORTS
*SIZE IS APPROXIMATELY 19" LONG (PORT TO PORT) X 8" TALL WITH MOUNTING STRAPS INSTALLED (6-5/8" DIAMETER)
---
We Also Recommend